WEST OMAHA ALOPECIA HAIR RESTORATION 
Hair Loss Treatment & Causes
MOD Dermatology provides alopecia hair restoration services in West Omaha. Hair loss is one of the most common aesthetic concerns, affecting millions of men and women around the world. While hair loss is usually not painful or dangerous, it can cause feelings of self-consciousness for those who struggle with it.  
This leads many people with alopecia to seek professional hair loss treatments, such as those available at MOD Dermatology. Our experienced team provides customized, effective hair loss treatment throughout West Omaha. To find out how you can treat or prevent your hair loss, contact us today.
What Is Alopecia?
Alopecia is the clinical term for hair loss or increased hair thinning. Alopecia is a complicated issue that can range in severity and have a multitude of different causes.
Some cases of alopecia are long-term and caused by underlying health concerns. Other cases are temporary and caused by dietary habits or hairstyling. Alopecia includes a variety of different subtypes, such as alopecia areata, telogen effluvium, discoid lupus, and trichotillomania.
Causes of Hair Loss
Hair loss causes vary, and our West Omaha clinic understands the myriad of causes that can lead to alopecia or hair loss. The following are just some of the most common factors that contribute to thinning hair:
Severe or prolonged emotional stress
Extreme physical stress
Autoimmune diseases
Medication use
Viral infections
Nutritional deficiencies
Inflammatory diseases
Hormonal fluctuations
Sometimes hair loss is caused by specific types of hairstyling techniques. For example, if you wear your hair in a tight ponytail or bun frequently, this can pull the hair too strongly and lead to increased fallout.
You can determine what the cause of your hair loss is by having a consultation with Dr. Ortleb, Dr. Rensch or one of our physician assistants.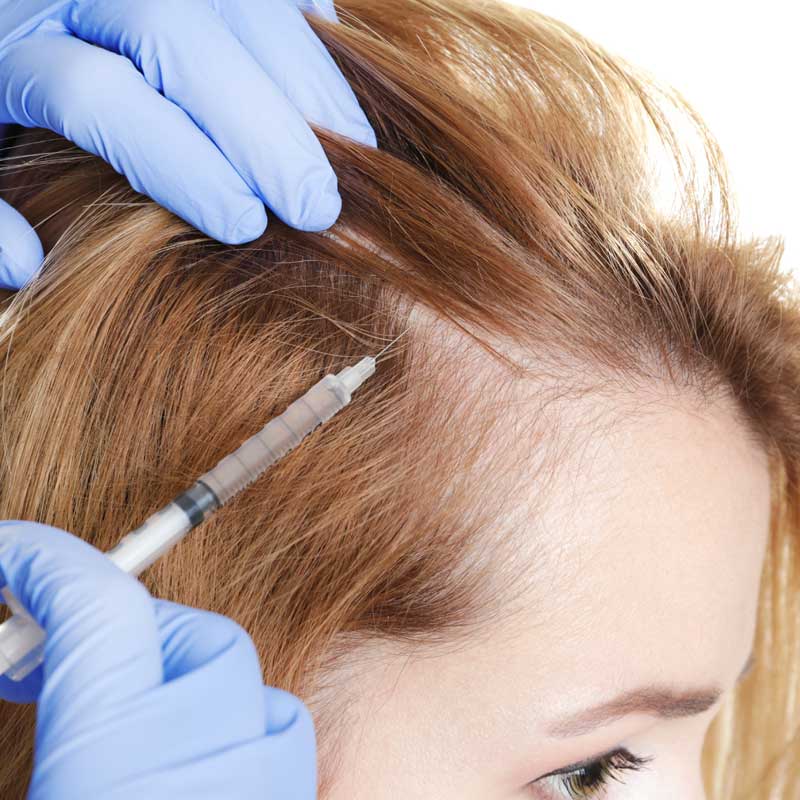 Hair Loss Treatment in West Omaha
Have you noticed an increase in hair falling out or complete hair loss? The right alopecia treatment can help resolve your hair loss, restore your hair, and prevent further loss.
At MOD Dermatology, we offer a variety of hair loss treatments and prevention options for patients throughout West Omaha. With their extensive training in hair loss solutions, Dr. Ortleb and Dr. Rensch can accurately diagnose the cause of your hair loss and develop a treatment plan tailored to your needs.
Contact us online or by phone to learn more about our hair loss treatment in West Omaha or to get started on your hair restoration journey today!