About MOD Skin Spa
Welcome to MOD Skin Spa! We are a state-of-the art dermatological spa committed to helping you look and feel your absolute BEST! From facial services and cosmetic enhancements to hair loss treatments, let us help you relax and rejuvenate, leaving the spa with a fresh, renewed outlook on life. Consider it an investment in you!
Services:
Chemical Peels
Chemical peels are treatments that use various acids to help accelerate the skin's natural cell turnover process. We offer a variety of peel treatments that can be tailored to your specific concerns and skin type.
Chemical peels can be used to:
Treat wrinkles caused by sun damage and aging
Reduce fine lines near the eyes and mouth
Improve the appearance of mild scars
Reduce age spots, freckles, and dark patches (melasma) due to pregnancy or the use of birth control
Treat certain types of acne and improve the general look and feel of skin
Types of peels we offer:
Salicylic
Glycolic
Micropeel
The Perfect Derma Peel
REVEPEEL
Enlighten Rx
The Perfect Derma Peel (Most Popular)

30 min | $250
The Perfect Derma™ Peel is a safe, effective medium depth peel for all skin types and ethnicities. The Perfect Derma™ Peel is the only peel that includes the powerful antioxidant glutathione, which lightens and brightens the skin, slows down the aging process and helps prevent wrinkles. The Perfect Derma™ Peel will improve the overall clarity, tone and texture of the skin as well as stimulate the production of collagen, resulting in firmer, more youthful skin. Key ingredients include: TCA, retinoic acid, salicylic acid, kojic acid, phenol, glutathione, and vitamin C. Patients should expect 7-10 days of downtime which includes significant peeling of the treated skin. A series of 2-3 treatments every 4 weeks will allow for optimal results. Patients with more severe acne scarring may need more treatments.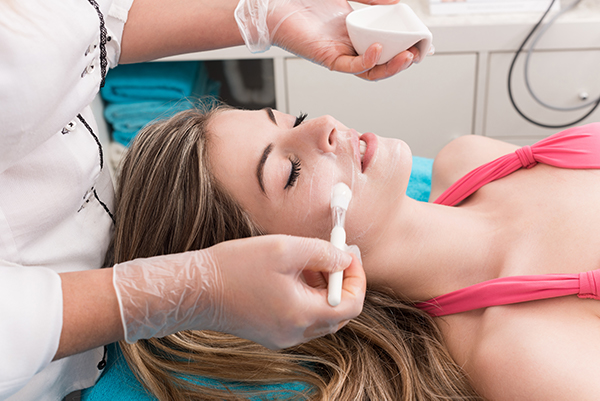 REVEPEEL (Most Popular)

30 min | $350
The REVEPEEL is a medical grade, medium depth peel that is safe for every skin type and tone. From acne and dark spots to rough skin texture and enlarged pores, the REVEPEEL provides rapid treatment and prolonged results for a variety of skin concerns. With two strengths and a customizable program, this peel provides significant improvements with just one peel. The application is quick, simple, and tolerable and takes approximately 20 minutes. Your skin will begin to peel and flake within 2 to 3 days, and the peeling process can continue for up to one week to reveal a new, refreshed appearance. It is recommended that process be repeated every 4 to 12 weeks depending on the individual's skin condition(s) and needs.
Enlighten Rx: Depigmentation System

30 min | $450
Our newest treatment, the REVEPEEL Enlighten Rx, targets hard to treat melasma and hyperpigmentation. Enhanced by multiple high potency skin exfoliating and lightening agents, this peel stimulates cell turnover and lifts existing pigmentation, irregularities, and blemishes while the lightening agents continue to inhibit discolored pigmentation at the dermal level to even skin tone. The mask is applied and left on between 8 to 12 hours. One to two days after the treatment, your skin will begin to lightly flake and peel, which will last for 5 to 10 days. The peel is paired with the Continuous Depigmentation system, which should be applied twice a day for 4 weeks to see full results.
Dermaplaning

45 min | $75
This treatment gently removes the outermost layer of dead skin cells and vellus hair revealing a brighter, smoother look and feel to the skin. Removing the dead skin and vellus hair allows serums and products to penetrate more evenly. This popular procedure is great by itself or paired with your favorite spa service.
Facials
Let us create an experience your skin will thank you for. Whether you are targeting a specific concern or just want to relax and unwind, our aesthetician will customize the best treatment for your skin. All treatments include a hand or foot massage!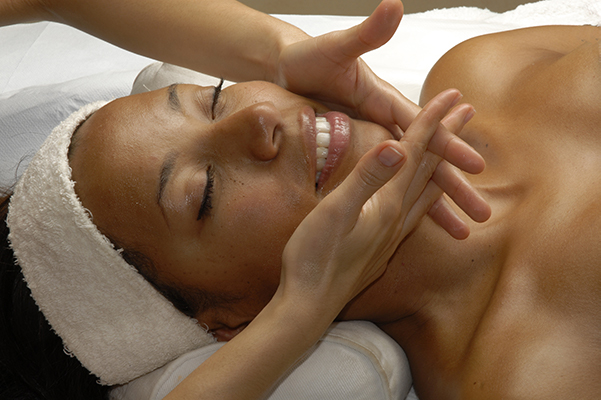 Signature Facial

60 mins | $95
This facial is perfect for anyone needing to restore a youthful glow. Our aesthetician will customize this facial to give you a deep pore cleanse followed by exfoliation, extractions, and a mask tailored to nourish and repair. This facial is perfect for normal to combination skin types.
Acne Facial

80 mins | $110
This facial is perfect for anyone struggling with mild acne and wanting a relaxing treatment. This antibacterial facial will address blemishes, acne, blotchiness, and redness by providing a deep cleanse of the pores followed by an application of products that soothe and calm redness and breakouts.
Sensitive Skin Facial

60 mins | $95
This facial is designed to soothe sensitive skin! Lay back and relax while our aesthetician gently exfoliates to improve texture and nourish the delicate skin for a calm, rejuvenating glow.
Microdermabrasion
Infusion Microdermabrasion

45mins | $150
Our Signature Microdermabrasion begins with a diamond tipped wand that gently exfoliates the topmost layer of skin leaving it supple and vibrant. Next, the treatment includes a light peel followed by an infusion of serums tailored to your concerns. This treatment is perfect for anyone looking for a timeless, beautiful glow. Treatments are recommended every 4 weeks. Acne, hyperpigmentation, sunspots, and fine lines and wrinkles can be targeted with this treatment.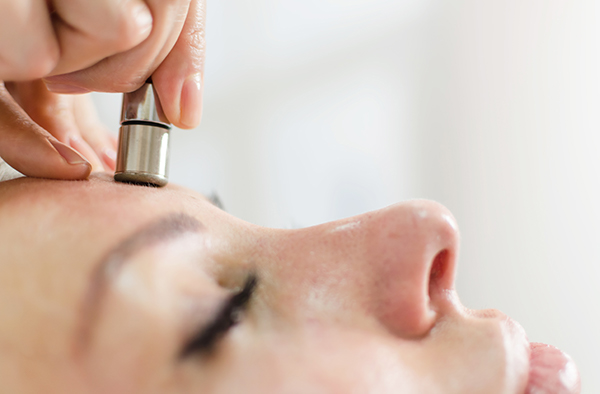 Microdermabrasion

45mins | $110
Enjoy a non-invasive treatment that removes the dull, lifeless cells and stimulates cellular regeneration. This treatment fades age spots, reduces fine lines and acne scars, helps to reduce pore size, and hydrates all skin types, leaving your skin feeling refreshed and renewed.
Microneedling


60 min | $350
Microneedling, also known as collagen induction therapy, is one of the most popular anti-aging treatments currently available. The treatment allows controlled stimulation, harnessing your skin's natural ability to repair itself and trigger new collagen production. This results in renewed skin with a thickened dermis, thereby softening the appearance of fine lines, wrinkles, and scars. The area to be treated is first cleansed, and a thin layer of a topical gel is applied to numb the skin. Next, our aesthetician will use a sterile cartridge-tip with microneedles to create micro injuries, thereby increasing collagen production in the skin. A patient can expect the treated area to appear bright red, similar to a sunburn, immediately after microneedling lasting for 1-3 days, followed by a few days of dryness. Typically 3 treatments are recommended.
The best candidates for microneedling are those with:
Uneven skin tone
Redness and hyperpigmentation
Fine lines and wrinkles
Acne scarring
Skin laxity
Stretch marks
Sun damage and sun spots
Rough textured skin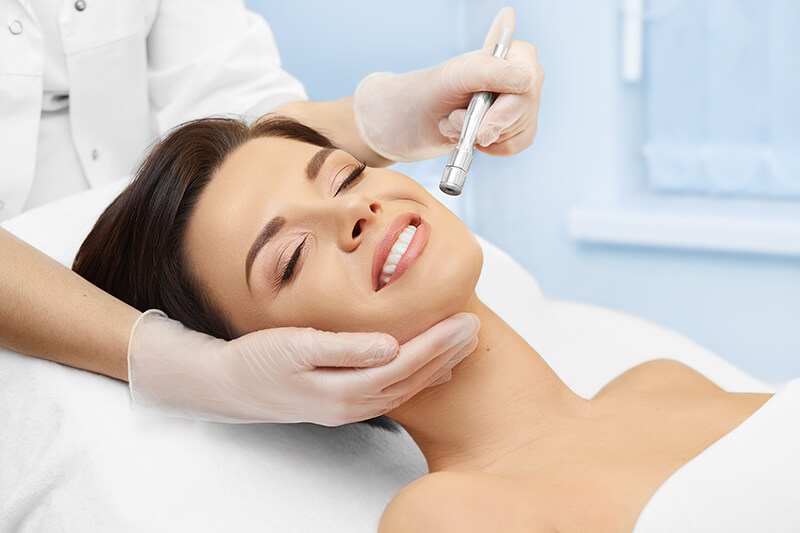 PRP Microneedling

60 min | $650
This treatment adds PRP (platelet rich plasma) to our microneedling process. PRP is derived from the patient's own blood and contains growth factors which increase healing and further help to diminish fine lines and wrinkles. PRP can be added to any microneedling service.
Waxing
| | | | |
| --- | --- | --- | --- |
| Eyebrows | $20 | Bikini | $35 |
| Lip | $12 | Brazilian | $65 |
| Chin | $12 | ½ Leg | $50 |
| Brow/lip | $27 | Full leg | $85 |
| Sideburns | $15 | Back | $65 |
| Arms | $50 | Chest | $55 |
| Underarms | $25 | Brow wax & tint | $45 |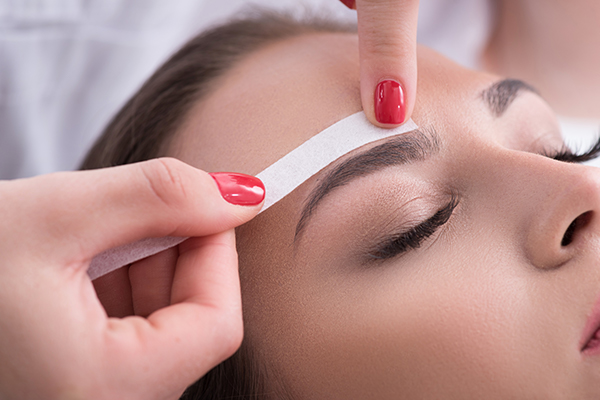 Meet Our Licensed Medical Aesthetician
Katie Brock has worked in the skin care industry for over 14 years and has a passion for learning the latest trends and techniques to help her clients achieve the best results possible. Katie studied aesthetics at Capitol in Omaha, where she started her career. She then went on to work at the renowned Canyon Ranch Spa in the Venetian/Palazzo in Las Vegas. She spent the next part of her career gaining experience in a plastic surgery office before returning to Omaha to be closer to family. We are so happy to have her on the MOD Squad and think you'll agree that she's the best in Omaha!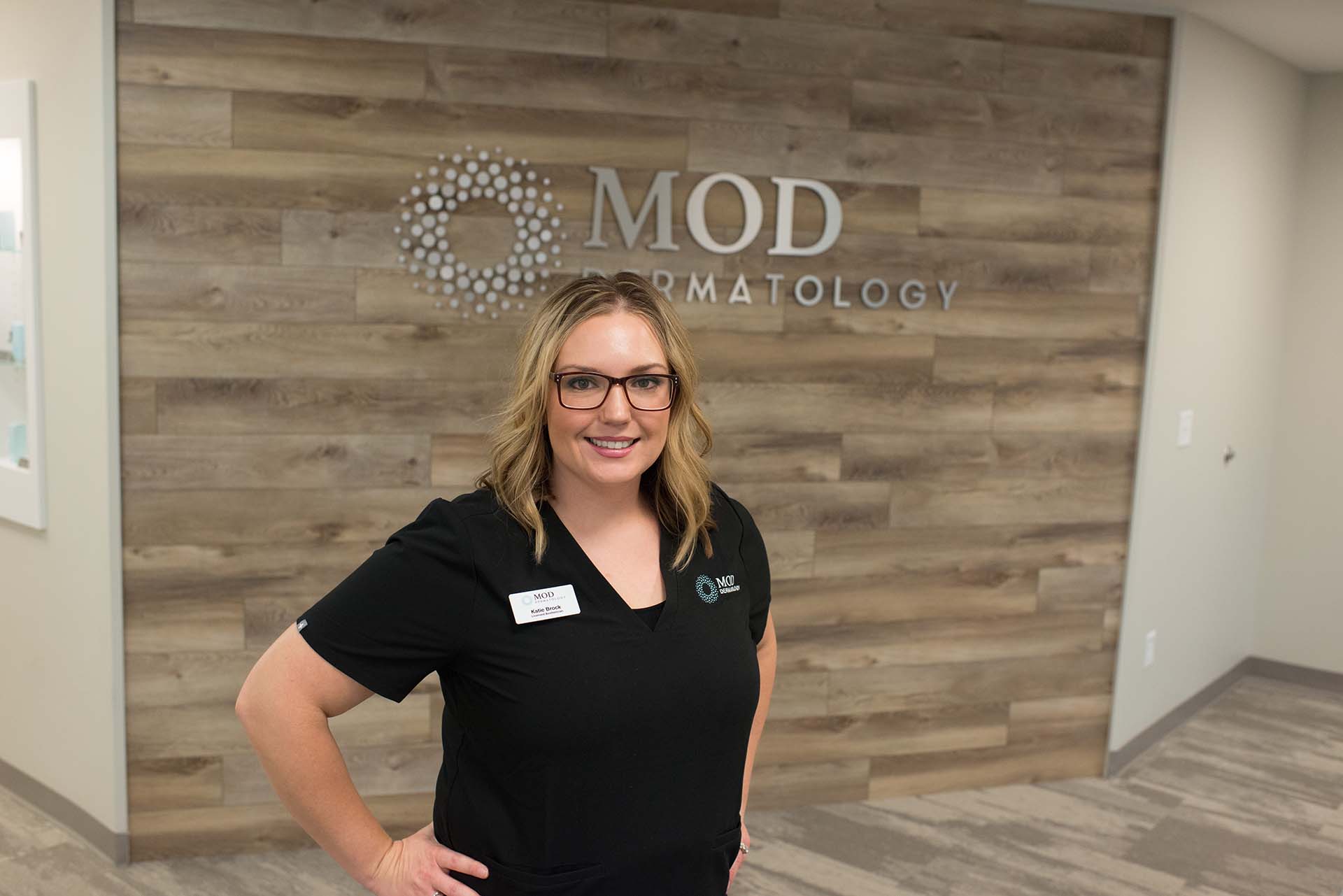 Botox and other Neuromodulators
Unwanted wrinkles and fine lines are a common concern for patients looking for a natural and refreshed look. One cause for these lines is the natural creases caused by the movement of underlying muscles of facial expression, i.e. crow's feet, glabellar lines, and forehead wrinkles. Botox is one of the many neuromodulators now on the market for the treatment of these unwanted wrinkles. It works by temporarily relaxing the facial muscles that contribute to the wrinkles in the overlying skin. As the muscles aren't able to contract, the wrinkles become less apparent. Each session of Botox typically takes just a few minutes and results will last approximately 3 months. In addition, MOD Dermatology offers Dysport, Xeomin, and Jeuveau which are equally effective at treating the same concerns and are available for patients who have a preference of one over the other.
Fillers
Due to the normal aging process, the natural volume in our face decreases over time. As a result, you may start to notice less full cheeks, creases around the nose and lower half of the face, and unwanted lines around the lips. One of the most popular and effective methods for restoring a more youthful face is to restore this volume using injectable fillers. The most commonly used fillers are made with hyaluronic acid, a substance already naturally present in the skin, and include products such as Juvederm and Restylane. Results typically last 6-12 months or longer depending on which particular product is chosen and where it is injected. Consultation is required for Dr. Ortleb to assess the most appropriate treatment plan for the patient.
PRP Injections
PRP, or platelet-rich plasma, is a procedure performed by drawing the patient's blood, spinning it at high speeds in a centrifuge, and then utilizing the plasma layer for various treatment modalities. The PRP fluid contains platelets and growth factors which can be helpful in treating many conditions including hair loss and skin aging. PRP can be injected separately for hair loss or performed as part of a microneedling session.
IPL
IPL, or intense pulsed light, is a laser and light-based treatment used to target many common cosmetic skin concerns. Examples of concerns that can be treated include sun spots, hyperpigmentation, red spots, angiomas, rosacea, broken blood vessels, and more. Consultation is required to evaluate if IPL is a good treatment option for your specific concern. The procedure itself only takes a few minutes with minimal downtime for most things we treat.
Laser Hair Removal
MOD Dermatology's Lightsheer laser is used for removing unwanted hair. The ideal candidate has dark, unwanted hairs. A consultation is recommended to determine if you are an ideal candidate and the number of treatments needed to achieve the desired results.