Medical and Children's Dermatology in Omaha
At MOD Dermatology in Omaha, our children's dermatologists provide complete pediatric and medical dermatologic care for all diseases related to skin, hair, and nails. Whether you want a full-body skin examination for prevention and detection of skin cancer, are looking for the most current options in Omaha for medical acne and rosacea treatment, or are searching for psoriasis specialists, MOD Dermatology provides the expert care you need. 
Call our Omaha children's dermatologist today at 402-505-8777 to schedule an appointment with Dr. Melanie Ortleb or Physician Assistant Amy K. Price.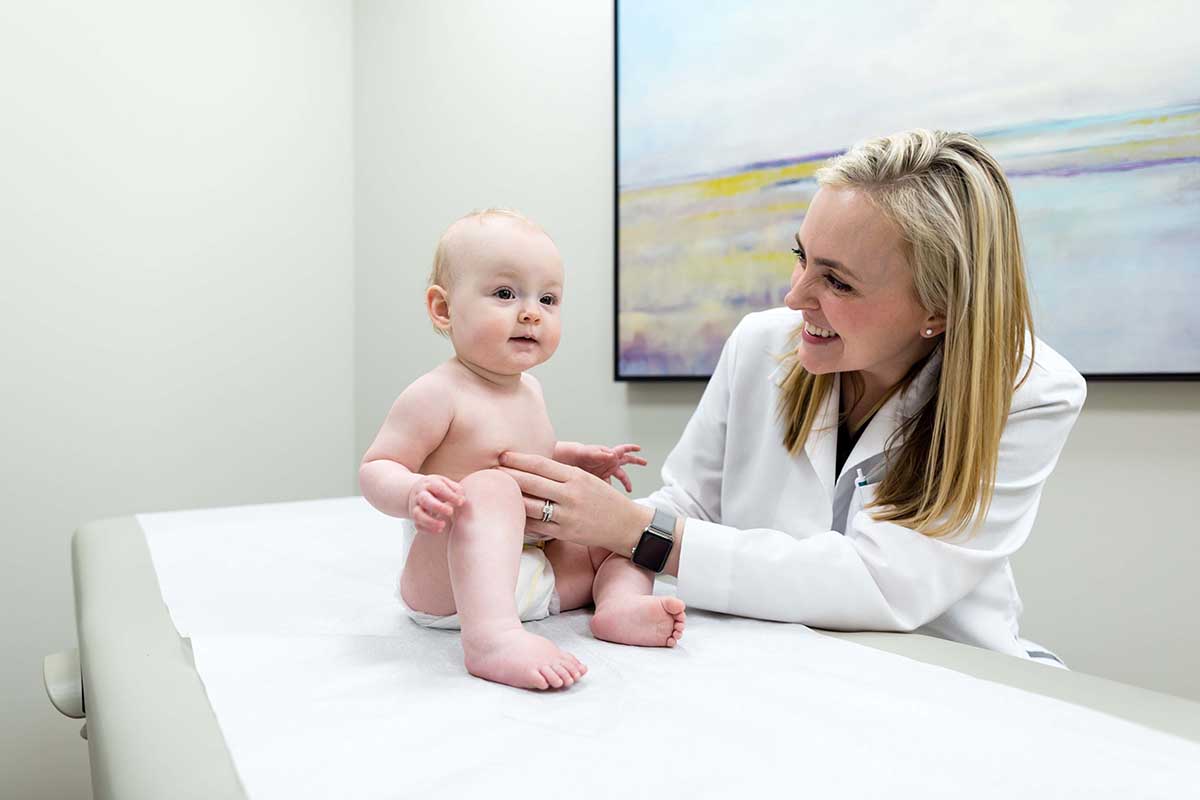 Medical Dermatology for Adults and Children
Our team at MOD Dermatology is highly trained in treating a wide range of conditions, helping patients of all ages achieve healthy skin, hair, and nails.
The following are common conditions we treat at our Omaha office:
Acne can affect people of all ages—from newborns to adolescents to adults. Unfortunately, not all acne can be treated the same. At MOD Dermatology, we provide personalized, effective medical acne treatment in Omaha.
Rosacea is a condition that can produce dramatic redness and sensitivity of the skin. If you're one of the 16 million Americans living with rosacea, MOD Dermatology can help with rosacea treatment in Omaha.
Medical dermatologists don't just treat the skin—we also offer treatment for hair loss and hair conditions. Our providers have extensive experience in the evaluation and treatment of hereditary alopecia, alopecia areata, discoid lupus, and more.
If you're seeking relief from the symptoms of dermatitis or a skin rash, we can help. Dr. Ortleb specializes in the diagnosis and treatment of different types of dermatitis and a variety of skin rashes.
Eczema and atopic dermatitis
Eczema and atopic dermatitis can cause red, itchy, swollen, or sore patches on the skin. At MOD Dermatology, we offer advanced treatment for eczema and atopic dermatitis, including a state-of-the-art Daavlin Neolux phototherapy unit.
Nail diseases can often be indicative of underlying medical conditions. If you notice irregular splitting or abnormal color or texture of your nails, contact MOD Dermatology to receive proper diagnosis and treatment.
Psoriasis is a common inflammatory disorder that can affect the skin, scalp, joints, and nails. Schedule an appointment with Dr. Melanie Ortleb or Physician Assistant Amy K. Price to receive a clinical exam and discuss treatment options.
MOD Dermatology offers annual skin cancer screening and full-body skin exams.
While there is no cure for vitiligo, MOD Dermatology offers treatments that help patients regain some lost pigmentation.
Warts and molluscum contagiosum are caused by viral infections of the skin which can be diagnosed and treated by medical dermatologists. If you have concerns about warts or molluscum, call MOD Dermatology to schedule an appointment.
Cosmetic and Surgical Dermatology
In addition to adult and pediatric dermatology, MOD Dermatology also offers cosmetic and surgical dermatology. 
Whereas medical dermatology is focused on treating diseases of the skin, hair, and nails to reduce health risks, cosmetic dermatology helps patients address aesthetic concerns. Common cosmetic dermatology treatments performed at our office include botox, chemical peels, microneedling, and more. 
Surgical dermatology seeks to improve the health, function, and appearance of your skin with surgical and minimally invasive treatments. Dr. Ortleb has extensive surgical training and can help patients who need dermatologic surgery for the removal of benign and cancerous skin growths.
Omaha's Trusted Children's Dermatologist
Call 402-505-8777 to schedule a visit with Dr. Melanie Ortleb or Physician Assistant Amy K. Price.