Aesthetic Services
Our aesthetic services in Omaha are designed to help patients enhance their natural beauty through non-surgical treatments, achieving healthy skin. We can combat aging, discoloration, and acne and rejuvenate skin texture with services such as microdermabrasion in Omaha. 
Services:
Chemical Peels
Chemical peels are treatments that use various acids to help accelerate the skin's natural cell turnover process. We offer a variety of chemical peel treatments in Omaha that can be tailored to your specific concerns and skin type.
Chemical peels can be used to:
Treat wrinkles caused by sun damage and aging
Reduce fine lines near the eyes and mouth
Improve the appearance of mild scars
Reduce age spots, freckles, and dark patches (melasma) due to pregnancy or the use of birth control
Treat certain types of acne and improve the general look and feel of skin
Types of peels we offer:
Salicylic
Glycolic
Micropeel
The Perfect Derma Peel
REVEPEEL
Enlighten Rx
The Perfect Derma Peel
30 min | $250
The Perfect Derma™ Peel is a safe, effective medium depth peel for all skin types and ethnicities. The Perfect Derma™ Peel is the only peel that includes the powerful antioxidant glutathione, which lightens and brightens the skin, slows down the aging process and helps prevent wrinkles. The Perfect Derma™ Peel will improve the overall clarity, tone and texture of the skin as well as stimulate the production of collagen, resulting in firmer, more youthful skin. Key ingredients include: TCA, retinoic acid, salicylic acid, kojic acid, phenol, glutathione, and vitamin C. Patients should expect 7-10 days of downtime which includes significant peeling of the treated skin. A series of 2-3 treatments every 4 weeks will allow for optimal results. Patients with more severe acne scarring may need more treatments.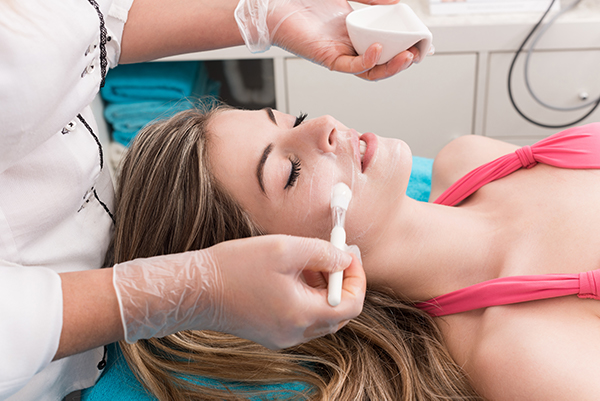 REVEPEEL
30 min | $350
The REVEPEEL is a medical grade, medium depth peel that is safe for every skin type and tone. From acne and dark spots to rough skin texture and enlarged pores, the REVEPEEL provides rapid treatment and prolonged results for a variety of skin concerns. With two strengths and a customizable program, this peel provides significant improvements with just one peel. The application is quick, simple, and tolerable and takes approximately 20 minutes. Your skin will begin to peel and flake within 2 to 3 days, and the peeling process can continue for up to one week to reveal a new, refreshed appearance. It is recommended that process be repeated every 4 to 12 weeks depending on the individual's skin condition(s) and needs.
Enlighten Rx: Depigmentation System
30 min | $500
Our newest treatment, the REVEPEEL Enlighten Rx, targets hard to treat melasma and hyperpigmentation. Enhanced by multiple high potency skin exfoliating and lightening agents, this peel stimulates cell turnover and lifts existing pigmentation, irregularities, and blemishes while the lightening agents continue to inhibit discolored pigmentation at the dermal level to even skin tone. The mask is applied and left on between 8 to 12 hours. One to two days after the treatment, your skin will begin to lightly flake and peel, which will last for 5 to 10 days. The peel is paired with the Continuous Depigmentation system, which should be applied twice a day for 4 weeks to see full results.
Dermaplaning
45 min | $80
This treatment gently removes the outermost layer of dead skin cells and vellus hair revealing a brighter, smoother look and feel to the skin. Removing the dead skin and vellus hair allows serums and products to penetrate more evenly. This popular procedure is great by itself or paired with your favorite spa service.
Facials
Let us create an experience your skin will thank you for. Whether you are targeting a specific concern or just want to relax and unwind, our aesthetician will customize the best treatment for your skin. All treatments include a hand or foot massage!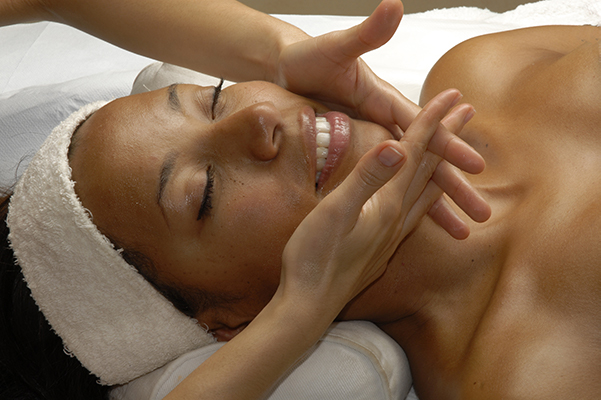 MOD Signature Facial
60 mins | $105
This facial is perfect for anyone in Omaha needing to restore a youthful glow. Our aesthetician will customize this facial to give you a deep pore cleanse followed by exfoliation, extractions, and a mask tailored to nourish and repair. This facial is perfect for normal to combination skin types.
Acne Facial
80 mins | $115
This facial is perfect for anyone struggling with mild acne and wanting a relaxing treatment. This antibacterial facial will address blemishes, acne, blotchiness, and redness by providing a deep cleanse of the pores followed by an application of products that soothe and calm redness and breakouts.
Jet Peel
60 mins | $235
Enjoy a non-invasive multi-step dermal infusion system that delivers immediate results without downtime or skin irritation. This treatment is ideal for all skin types and helps with aging, fine lines, dry skin and acne. 
Microdermabrasion
Infusion Microdermabrasion
45mins | $150
Our Signature Microdermabrasion service in Omaha begins with a diamond-tipped wand that gently exfoliates the topmost layer of skin leaving it supple and vibrant. Next, the treatment includes a light peel followed by an infusion of serums tailored to your concerns. This treatment is perfect for anyone looking for a timeless, beautiful glow. Treatments are recommended every 4 weeks. Acne, hyperpigmentation, sun spots, fine lines, and wrinkles can be targeted with this treatment.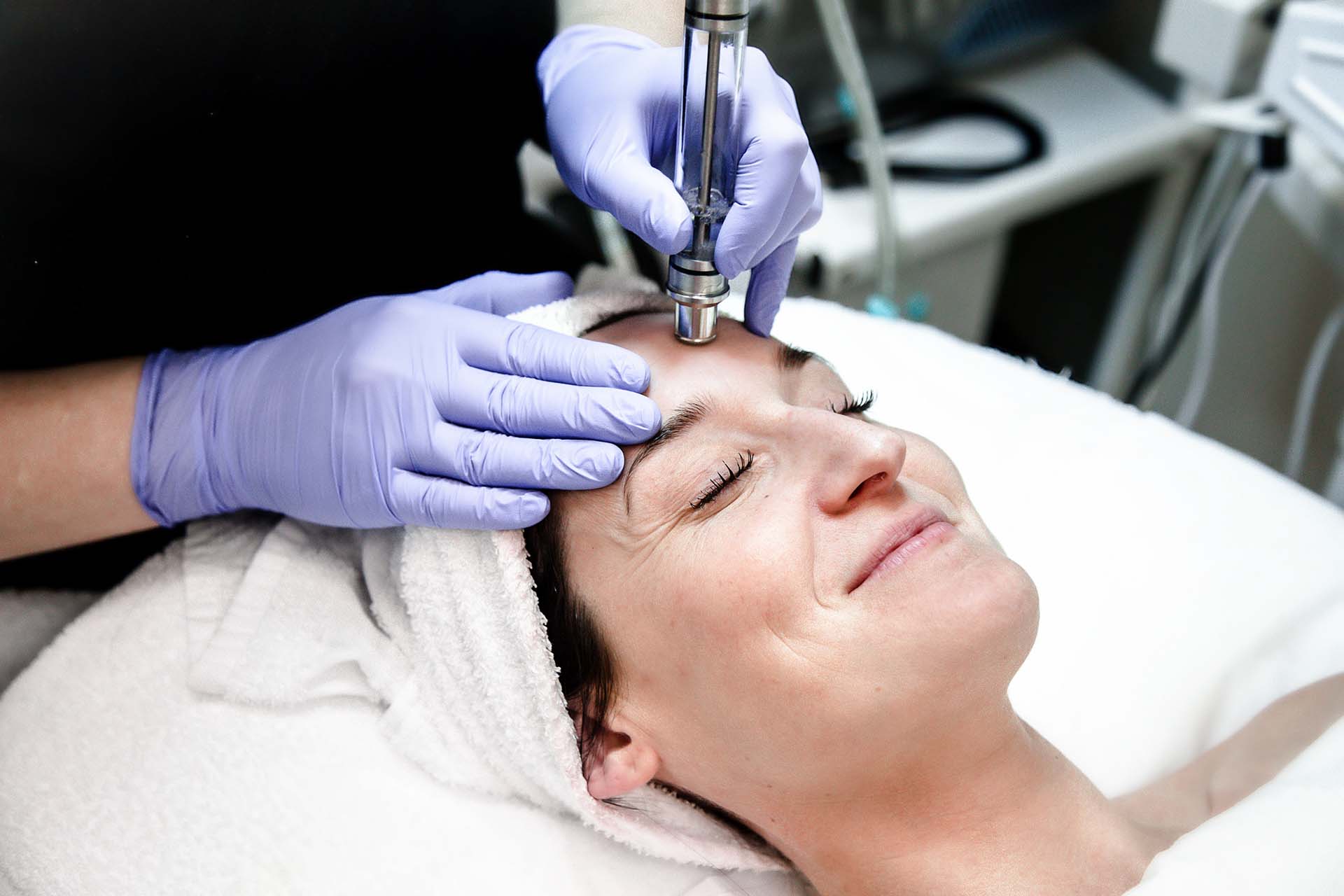 Microdermabrasion
45mins | $110
Enjoy a non-invasive treatment that removes the dull, lifeless cells and stimulates cellular regeneration. Our microdermabrasion treatment in Omaha fades age spots, reduces fine lines and acne scars, helps to reduce pore size, and hydrates all skin types, leaving your skin feeling refreshed and renewed.
Waxing + Tinting Services
Eyebrows
$20
Bikini
$45
Lip
$15
Brazilian
$85
Chin
$15
½ Leg
$60
Brow/lip
$27
Full leg
$95
Sideburns
$15
Back
$75
Arms
$75
Chest
$75
Underarms
$30
Brow Wax & Lash Tint
$45
Brow Lamination
$75
Lash Lift & Tint
$95
Underarms
$30
Lash Tint
$45
Lash Lift 
$80
Nostrils
$17