Surgical Dermatology in Omaha
Expert Surgical Dermatologists in Omaha
MOD Dermatology's expert surgical dermatologists in Omaha are well-versed in the various surgical procedures available to treat non-melanoma skin cancer, such as basal cell carcinoma and squamous cell carcinoma. This expertise also includes the important task of diagnosing and treating melanoma, which is the most dangerous type of skin cancer. In addition to cancerous growths, atypical or dysplastic moles, bothersome cysts, and lipomas are among some of the other common skin conditions surgically treated by our surgical dermatologists in Omaha. Removal of these various lesions is done in the office using local anesthesia only, thereby saving patients the expense of a trip to the operating room or the risks of general anesthesia. Furthermore, this in-office procedure allows patients to get home sooner, with a secure bandage in place, and provides them the ability to get back to their daily lives. If you are in need of skin cancer, Mohs, cyst, or mole removal in Omaha, contact us today!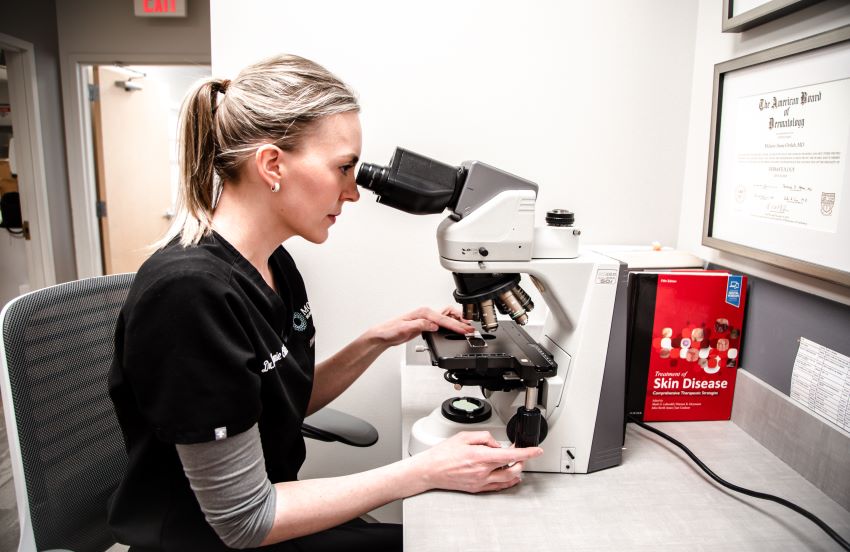 Skin Cancer Treatment
Regular skin exams are essential to catch possible signs of skin cancer as early as possible. The two major types of skin cancer are melanoma and non-melanoma. The most commonly known and deadliest skin cancer is melanoma, which occurs when melanin-producing cells grow out of control. Non-melanoma skin cancer includes any skin cancer that is not of the melanoma type. The most common non-melanoma skin cancers are basal and squamous cell carcinoma. 
The sooner non-melanoma skin cancer or melanoma is caught, the easier it is to remove surgically. If you are frequently exposed to UV rays, whether that be through natural sunlight or tanning beds, you may be at higher risk for melanoma. As one of the local area's top surgical dermatologists, MOD Dermatology in Omaha offers skin cancer treatment for melanoma, basal, and squamous cell carcinoma. 
MOD Dermatology values preventative care with our patients. No matter your stage in life, we advocate for taking steps to prevent skin cancer and other skin issues. Schedule an appointment today for a skin examination and learn about helpful ways to prevent future skin conditions.
Benign Growth Removal
Our surgical dermatologists can also treat non-cancerous skin conditions including moles, skin tags, cysts, and lipomas. If these conditions are causing discomfort or pain, it is important to see an experienced dermatologist for treatment. Surgical dermatology at our Omaha office is commonly used for improved desired appearance through the removal of moles, skin tags, and other skin issues. 
The dermatologists at MOD Dermatology have the experience and equipment needed to remove benign growths right in our office. Depending on the type of skin mass, our growth removal specialists in Omaha might use laser therapy, creams, and other procedures to remove them. It is important to set up an initial consultation so our doctors can test and determine the exact type of growth you are dealing with and the best procedure to remove it. 
Rely On MOD Dermatology
When you need surgical dermatology treatments in Omaha, it is important that you go to a professional that is well-versed and has plenty of experience. At MOD Dermatology Dr. Ortleb has extensive surgical training and enjoys helping patients with their skin cancer, Mohs, cyst, and mole removals in Omaha. For more information call 402-505-8777 to make an appointment!