VITILIGO TREATMENT IN PAPILLION
What Is Vitiligo?
Vitiligo is an autoimmune disease that causes depigmentation in patches around the body. The immune system of those with vitiligo has a negative response to melanocytes and attacks them, causing less melanin in the skin. This skin condition can affect anyone, though it shows up more obviously in those with a dark skin tone. There are three different types of vitiligo. 
Focal vitiligo is when only a specific small area of the skin loses pigmentation. This is a fairly rare form of vitiligo.
Segmental vitiligo is when patches are just found either on one area of the skin such as the face or the hands.
Generalized vitiligo is the most common type of vitiligo, and is characterized by patches around several areas of the body. 
MOD Dermatology near Papillion can provide vitiligo treatment solutions that will be able to help clients diminish its effects, and restore their confidence in themselves.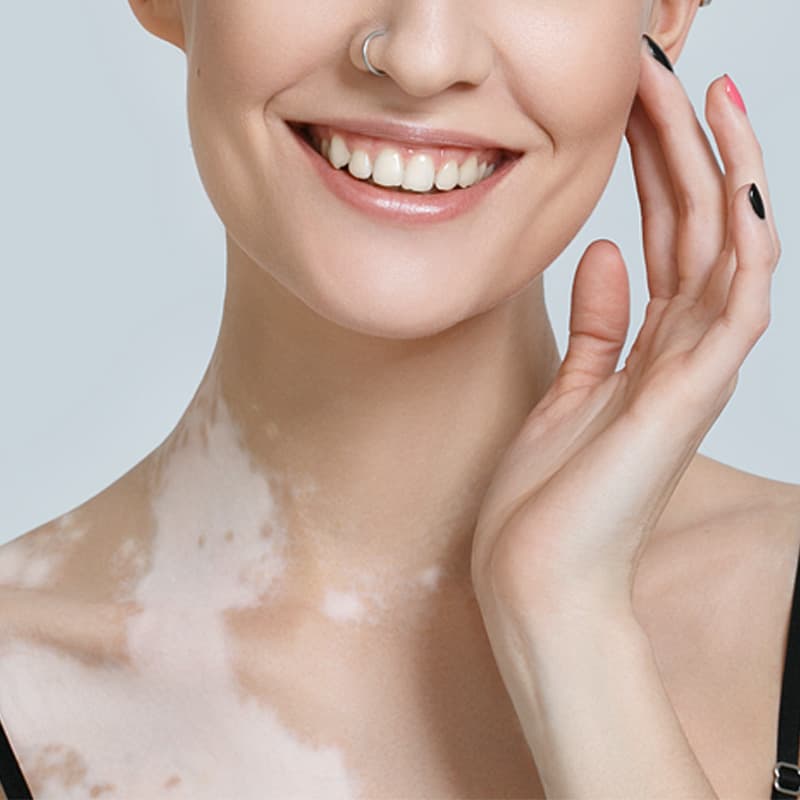 WHO IS AFFECTED BY VITILIGO?
While vitiligo can affect someone of any age or race, certain characteristics cause someone to be more susceptible to the disease including those with family history as well as people who already have autoimmune disorders. Typically, vitiligo starts before you turn 30. You cannot contract vitiligo by being near someone with the disease or coming into contact with surfaces that someone with it has touched. 
WE TREAT VITILIGO
Though vitiligo doesn't normally cause discomfort or pain, many people in the US, including Papillion, NE,  seek vitiligo treatment options to boost self-esteem.  At MOD Dermatology, we offer a number of the latest technology and medicine to effectively treat vitiligo for Papillion customers. Among the most common treatments used are systemic steroids or topical steroids, immune-suppressing medications, topical calcineurin inhibitors, or light therapy such as narrow-band ultraviolet light (NBUVB). Our board-certified dermatologists will evaluate the type and extent of your condition and create a custom treatment plan. Dr. Ortleb offers a Daavlin narrow band UVB (NBUVB) unit which has been proven a highly safe and effective way to treat vitiligo. 
At MOD Dermatology in Papillion, we understand the pain generalized, segmental, or focal vitiligo can cause to your self-esteem.  Call our office today to schedule an appointment and start your treatment plan!