FULL-BODY SKIN EXAMS AND SKIN CANCER SCREENINGS NEAR PAPILLION
Did you know that one in five Americans experience skin cancer at some point in their lives according to the American Academy of Dermatology? At MOD Dermatology near Papillion, skin cancer screening services and full-body skin exams are one of our most popular requests. It is always good to catch skin cancer as early as possible as it makes it significantly easier to treat. We recommend yearly full-body skin exams for those who have a family history of skin cancer and even for those who don't.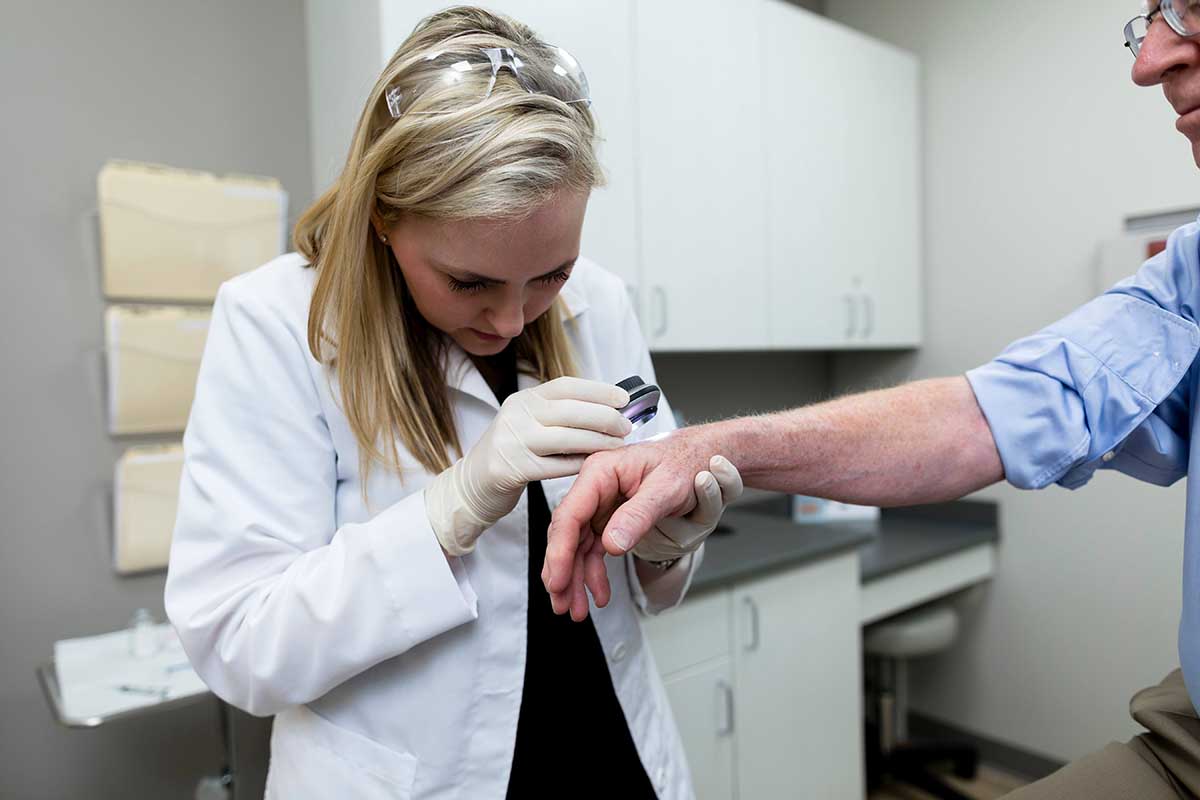 WHO SHOULD CONSIDER SCHEDULING A FULL-BODY SKIN EXAMINATION?
While we believe everyone should receive a full-body skin exam once a year, there are specific demographics that are more susceptible to having skin cancer. Those with the following should highly consider scheduling an exam:
Multiple sunburns
Constant exposure to the sun
Family history of melanoma
History of actinic keratosis, precancerous areas, basal cell carcinoma, or squamous cell carcinoma
Moles
Use of indoor or outdoor tanning
What to Expect During a Skin Exam
When you know what to expect with a full-body skin cancer screening at our Papillion facility, it tends to ease some stress and anxiety. At MOD Dermatology, we value our client's privacy and work to make sure they have the most comfortable experience possible. You will be provided with a gown to change into at the beginning of the exam and can undress to the level with which you are most comfortable. Our board-certified dermatologists use a dermatoscope to closely examine each area of the body for growth, moles, or abnormalities.
How to do a self-skin exam
Performing monthly self-skin examinations is greatly encouraged for those who have a family history of skin cancer as this can help detect skin cancer in the early stages, making it easier to treat. While our dermatologists look closely for any skin abnormalities at your professional annual exam, there might be new growth throughout the year. 
Here's how to perform a skin exam on yourself:
Go to a well-lit room in front of a mirror. Use a hand-held mirror to make it easier to see areas like the backs of your legs, neck, and torso. A close friend, partner, or family member can help you check the hard-to-see areas like your scalp.
Take note of the way your moles, freckles, and other spots are shaped, sized, and colored. Taking mental notes or photos can help you notice any changes that occur between exams.
As you begin your exam, start with your face, ears, neck, chest, and stomach. Then check your underarms, the front and back of your arms, the tops and palms of your hands, between your fingers, and under your fingernails. Make sure to check the skin underneath breasts and skin folds.
Sitting down, you'll then check your legs, including the tops of your thighs, shins, feet, between the toes, and under toenails. Then, use your hand mirror to check the bottom of your feet, calves, and the back of your thighs.
Next, you'll stand again and use the hand mirror to check your buttocks, genital areas, and lower back. You'll also check the back of your neck, ears, and upper back—these areas can be easier to exam if you use your hand mirror to reflect in a larger wall mirror.
Finally, check your scalp in sections using a small comb.
FULL-BODY SKIN EXAMS AND SKIN CANCER SCREENINGS IN PAPILLION
We are your #1 option for full-body skin exams in the Papillion area. Call our office today to schedule an exam, and get the peace of mind you are looking for!