Skin Cancer
Skin cancer involves the abnormal growth of skin cells and can range from mild to serious conditions that can be life-threatening. At MOD Dermatology, we can provide patients with a variety of skin cancer treatments in Papillion, NE. With the latest techniques and the best tools, we will do everything possible to help remove cancer affecting your skin.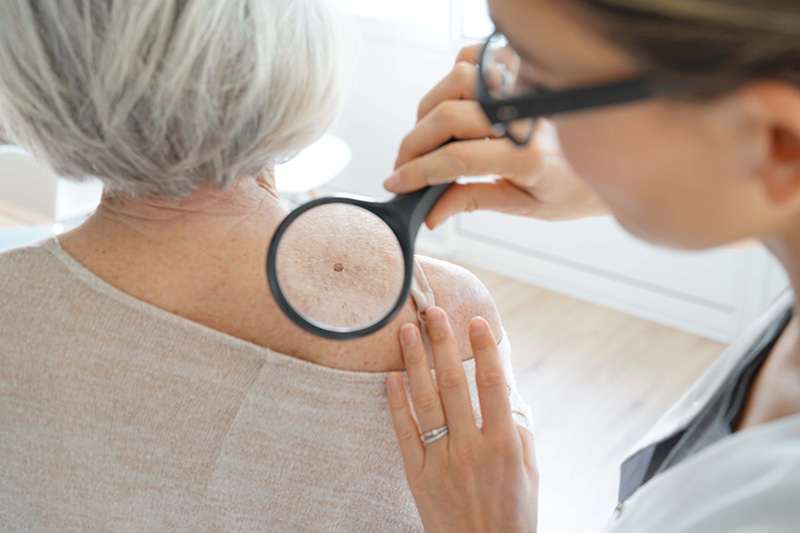 Non-Melanoma Skin Cancer
The most common types of skin cancers treated in Papillion, NE, are those that are not melanomas. Non-melanoma skin cancers include squamous cell carcinoma and basal cell carcinoma. 
Squamous Cell Carcinoma
This type of skin cancer begins in the squamous cells found in the outer and middle skin layers. Prolonged and unprotected exposure to UV radiation from the sun or tanning beds is the main cause of this cancer.
Basal Cell Carcinoma
Basal cell carcinoma is another skin cancer caused by sun exposure. It affects the cells in your skin that create new skin cells when older ones die off. Some of the warning signs include:
Shiny skin-colored lump
Scaly and flat skin patch
Black, blue, or brown lesion
White and waxy lesion
This cancer can develop anywhere on your skin that receives prolonged sun exposure. 
Melanoma
The deadliest form of skin cancer to treat in Papillion, NE, is melanoma. This cancer affects the cells in your skin that create pigment — the melanin cells — and can spread to other organs if left untreated. Those more are risk are people with:
Fair skin
Red hair
Family history of melanoma
Immunosuppression
Atypical and multiple moles
Tendency to burn
The best treatment option for melanoma is surgical removal, which MOD Dermatology can often perform on-site in Papillion, NE.
Receive Help for Skin Cancer in Papillion, NE
Our experts are here to offer the assistance you need if you need skin cancer treatment in Papillion, NE. Request an appointment at MOD Dermatology to learn more!