CHEMICAL PEEL TREATMENTS
WHAT IS A CHEMICAL PEEL?
A chemical peel is a common cosmetic procedure used to remove dead skin cells and reveal the younger-looking skin beneath. The chemical solution applied causes the skin to exfoliate and peel off. The treatment is typically used on the face, hands, and neck. 
TYPES OF CHEMICAL PEELS AVAILABLE
Chemical peels are classified into four different types of peels: AHA, BHA, TCA, and Phenol peels. MOD Dermatology in Papillion recommends AHA and BHA peels for light chemical peels. TCA for a medium-depth peel, and Phenol for a deep-depth peel. The deeper the chemical peel, the more drastic the results and the longer the recovery time.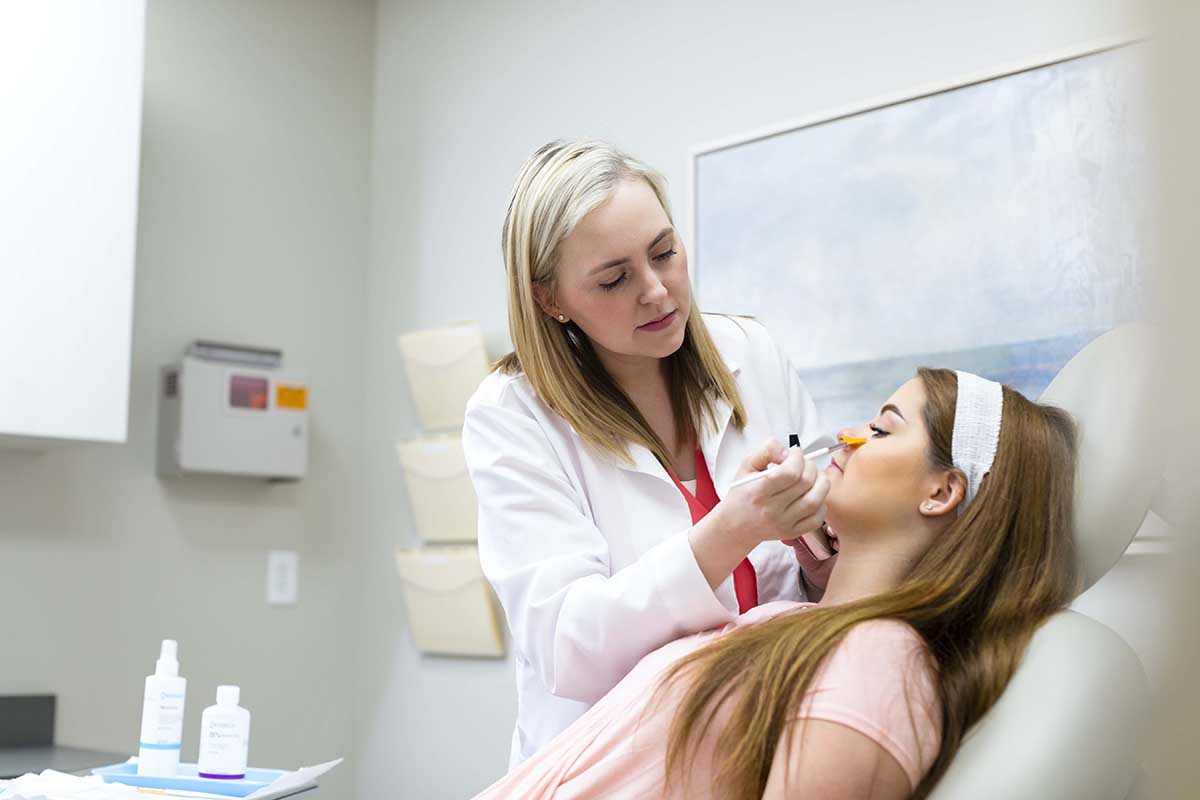 PREPARING FOR YOUR CHEMICAL PEEL
There are a number of steps you should take before your facial chemical peel treatment in Papillion to ensure the best results and quickest healing. Do not use any retinol or Retin-A medication at least 48 hours before. Avoid exfoliating your face at least a week before the peel. Do not wax the week before as well.   
BENEFITS OF CHEMICAL PEELS
There are many benefits to facial chemical peels at Papillion's MOD Dermatology. Among the most common are decreasing fine lines and wrinkles, helping to get rid of acne, smoothing out the skin, and clearing hyper-pigmentation. Facial chemical peels from MOD Dermatology in Papillion have been helpful treatments for acne treatments and reducing acne scarring. The specific benefits you receive from your peel will greatly depend on your skin type and the kind of peel applied to your face. Talk to our specialists at MOD Dermatology to determine the best peel for you. 
WHY SHOULD YOU GET A CHEMICAL PEEL?
A chemical peel might be a good choice for you if you experience the following symptoms:
Extensive sun damage
Wrinkles and fine lines
Acne scarring
Hyperpigmentation
Precancerous growths
CHEMICAL PEEL AFTERCARE
Depending on the type of peel that you receive, the recovery time will vary. Light chemical peels typically range from 4 to 7 days. Medium peels range from 5 to 7 days, and deep chemical peels take about 2 weeks. During this time, it is important to stay out of the sun as much as possible. Make sure to use SPF 30 or higher. Cold compressors can relieve some discomfort. Avoid touching or picking at your face. Make sure to follow the instructions given to you after your peel treatment by the dermatologist at MOD Dermatology in Papillion. 
CONTACT MOD FOR YOUR CHEMICAL PEEL TREATMENT IN PAPILLION
MOD Dermatology in Papillion, NE, has many chemical peels available to fit your needs. Contact us in Papillion today to schedule a TCA peel, AHA peel,  BHA peel, or Phenol Peel appointment with our dermatologists!