CHEMICAL PEEL TREATMENTS IN GRETNA
WHAT IS A CHEMICAL PEEL?
According to our staff in Gretna, it's a facial or face peel treatment that utilizes a chemical solution applied to the skin, an exfoliate to remove the top layers of the skin and reveal the younger-looking skin underneath. Most commonly used to treat wrinkles, hyperpigmentation, and scarring, this procedure is a non-invasive, safe way to improve the appearance of your skin.
TYPES OF CHEMICAL PEELS AVAILABLE
One great aspect of getting chemical peels in our skin care clinic at Gretna is that we offer three different types to choose from, depending on the results you are looking to achieve and the current state of your skin. The three types of chemical peels are light, medium, and deep. A light-depth peel penetrates only the outermost layer of skin and gently exfoliates. Medium-depth peels use glycolic or trichloroacetic acid to reduce fine lines and wrinkles. The strongest peel is a deep chemical peel. This is great for scars and precancerous growths.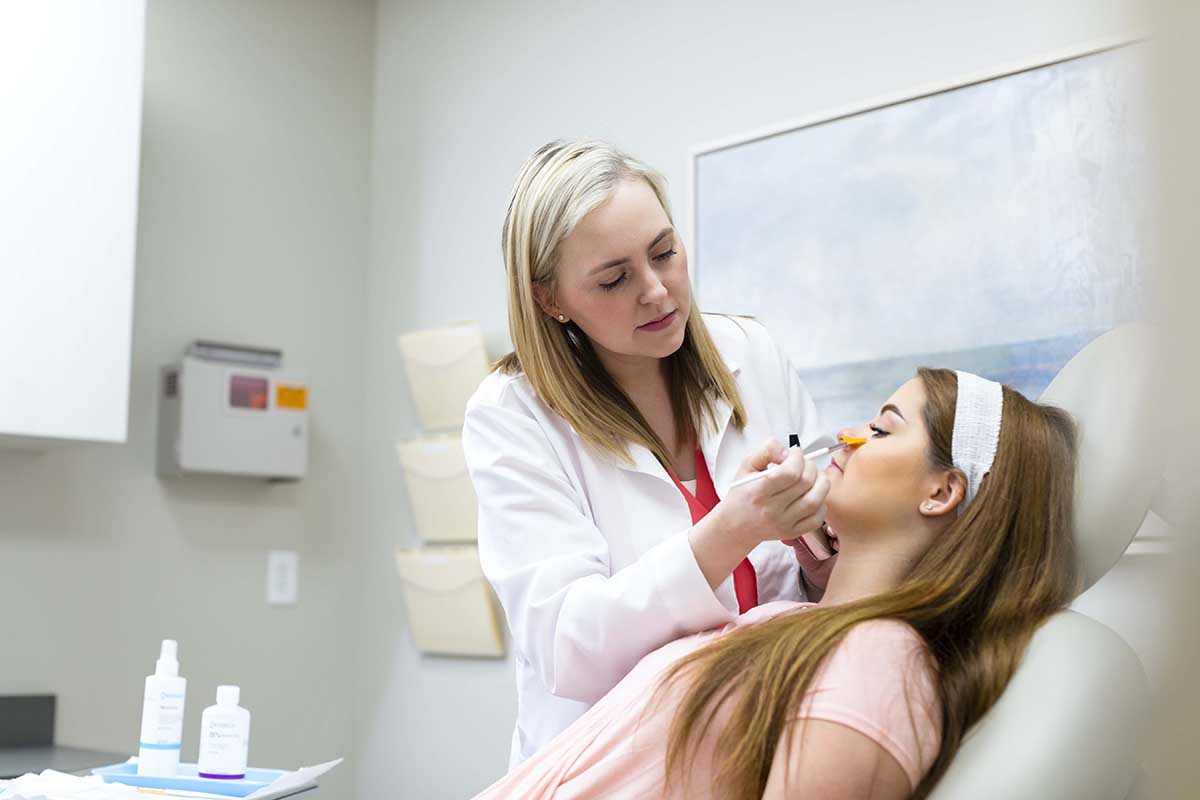 PREPARING FOR YOUR CHEMICAL PEEL
To get the most out of your chemical peel we recommend taking the following steps before your procedure at our skin care clinic in Gretna:
Try to stay out of the sun as much as possible and use SPF 30 or higher
Stay well hydrated
Don't exfoliate a week before your appointment
BENEFITS OF CHEMICAL PEELS
Chemical peels are a great way to get younger-looking skin. Over time, too much sun can cause damage to your skin including wrinkles and hyperpigmentation. Chemical peels help to reverse the damage done by the sun. A less commonly known added benefit is that your makeup will go on smoother, making your makeup products work better. 
WHY SHOULD YOU GET A CHEMICAL PEEL?
Are you debating whether a chemical peel would help your skin? Talk to one of our certified dermatologists today to discuss your concerns and desires for your skin. As one of the top skin care clinics in Gretna, we are excited to help you with your journey back to healthy skin. 
CHEMICAL PEEL AFTERCARE
The recovery time after your chemical peel depends on the type of chemical treatment you receive. Typically your skin heals within two weeks, though this can vary depending on skin condition and type. It is important to stay out of the sun as much as possible, and wear SPF 30 or greater. A cold compressor can minimize redness and discomfort.
CONTACT MOD FOR YOUR CHEMICAL PEEL TREATMENT IN GRETNA
Get younger, fresh-looking skin today! Contact MOD Dermatology, our skin care clinic in Gretna, NE, to schedule your appointment.