BELLEVUE'S SKIN CANCER TREATMENT CENTER
Skin cancer affects a large number of the population. The Skin Cancer Foundation states that one in five Americans will get some form of skin cancer by the time they reach the age of 70. 
There are different types of skin cancers, including the most serious one, melanoma. Learn more about the different types of skin cancers we can treat treat at MOD Dermatology's skin cancer treatment center in Bellevue.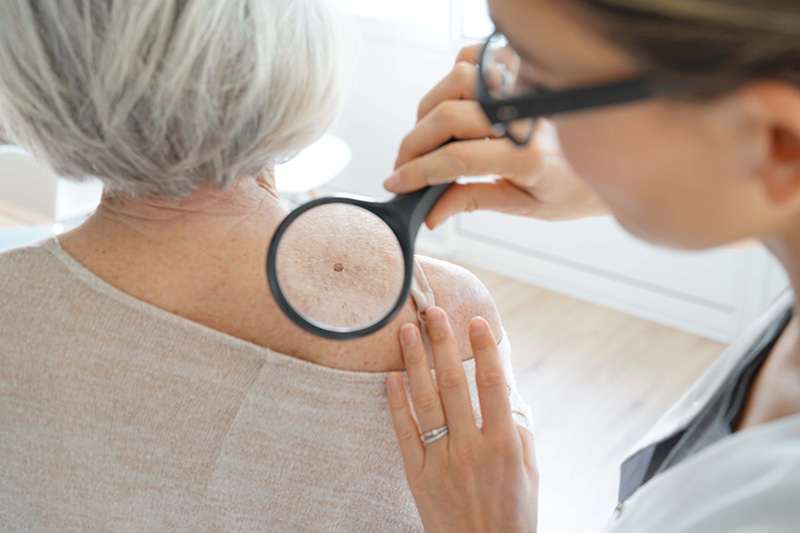 NON-MELANOMA SKIN CANCER
Basal Cell Carcinoma
Basal cell carcinoma is a non-melanoma skin cancer that affects the basal cells. These are the cells responsible for producing new cells after old ones die. It is one of the most common types of skin cancer, and it develops in areas of the body that have frequent exposure to the sun, including:
Some of the symptoms of this kind of skin cancer include seeing shiny, skin-colored lumps on your skin or flat and scaly patches. Some people also get a black, blue, or brown lesion in the affected area. 
Squamous Cell Carcinoma
This type of skin cancer starts in the outer and middle layers of your skin, in the squamous cells. It is not usually life-threatening, but early detection is important. 
UV light is the main cause of squamous cell carcinoma, affecting people who use tanning beds or have prolonged and unprotected exposure to the sun. 
Because squamous cells are all over your body, squamous cell carcinoma can occur anywhere. 
Melanoma
Melanoma is the most serious type of skin cancer and can spread to other organs if untreated. It begins in your skin's melanin cells, which give your skin its color. 
Although melanoma can appear anywhere on your body, it mostly appears in areas frequently exposed to the sun. 
Aggressive treatment is essential, and MOD Dermatology's melanoma treatment clinic in Bellevue offers various surgical options. 
Get Treatment for Skin Cancer in Bellevue, NE
If you have skin cancer, have noticed a change in your skin's appearance, or want to know more about melanoma treatment services in Bellevue, ask about our skin cancer treatment center experts at MOD Dermatology. Request an appointment today!