Microneedling and PRP Injections in Papillion
What Is Microneedling?
Do you want to look and feel your absolute best? Of course you do, doesn't everyone? MOD Dermatology is proud to offer microneedling for Papillion residents, a revolutionary treatment that can help you achieve the youthful, radiant skin of your dreams.
Microneedling is a minimally invasive procedure that uses tiny needles to create controlled punctures in the skin. These punctures stimulate the body's natural healing process, which results in the production of new elastin and collagen. This, in turn, leads to smoother, softer, and more youthful-looking skin. This procedure is done in the office with minimal downtime. In fact, many patients can return to their normal activities immediately after treatment.
Microneedling is an effective treatment for a variety of skin concerns, including:
Fine lines and wrinkles
Acne scars
Stretch marks
Large pores
Uneven skin tone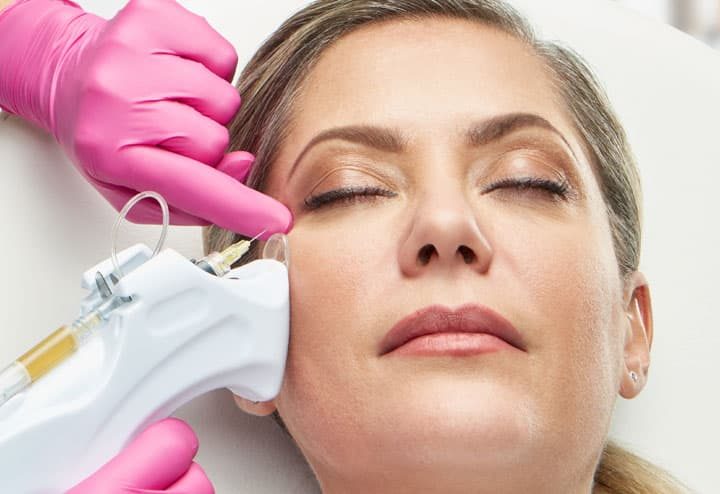 If you're looking for a safe, effective, and affordable way to improve your skin's appearance, microneedling is a great option. Contact MOD Dermatology today to learn more about this revolutionary treatment and schedule a consultation with one of our experienced providers.
Here are some of the benefits of microneedling:
Safe and effective
Minimally invasive
Affordable
Can address a variety of skin concerns
Smoother skin
Softer skin
More youthful-looking skin
What Are PRP Injections?
This innovative procedure uses a small amount of your own blood to create a plasma-rich concentrate that is then injected back into the area of concern. The platelets and growth factors in the PRP help to stimulate collagen production and tissue regeneration, leading to improved skin quality, reduced scarring, and hair growth.
PRP treatments are a safe and effective way to address a variety of cosmetic concerns. They are also minimally invasive, meaning that there is little to no downtime associated with the procedure. If you are looking for a natural and effective way to improve your skin or hair, PRP treatments may be the right choice for you. 
Contact our office today to schedule a consultation and learn more about how microneedling and PRP treatments from our clinic can help you achieve healthy, radiant-looking skin!