Microneedling and PRP Injections for Bellevue
What Is Microneedling?
Are you looking for a safe and effective way to improve the appearance of your skin? Look no further than microneedling! This innovative procedure is the latest trend in facial rejuvenation and anti-aging, and it's quickly becoming a popular choice for patients of all ages.
Microneedling works by introducing tiny punctures into the skin with extremely fine needles. These punctures stimulate the body's natural healing process, which helps to produce new elastin and collagen. As a result, microneedling can improve the appearance of wrinkles, fine lines, skin tone and texture, large pores, and acne scarring.
Microneedling is an effective treatment for a variety of skin concerns, including:
Fine lines and wrinkles
Acne scars
Stretch marks
Large pores
Uneven skin tone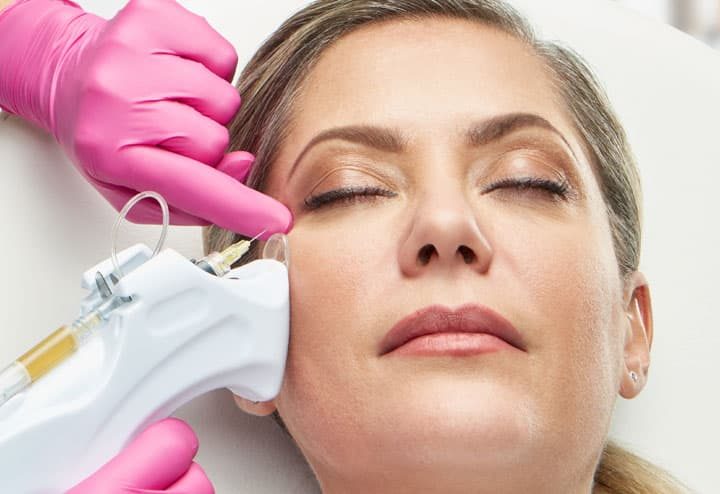 Microneedling is a procedure that can be performed in-office. Most patients experience only mild redness and swelling after the procedure, which typically goes away within a few days. There is no downtime associated with microneedling, so you can resume your normal activities immediately.
Here are some of the benefits of microneedling:
Safe and effective
Minimally invasive
Natural
Can address a variety of cosmetic concerns
Improved skin quality
Reduced scarring
Tightened pores
Increased collagen and elastin production
What Are PRP Injections?
Looking to turn back the clock on your skin? Look no further than PRP treatments! This innovative procedure harnesses the power of your own body's natural growth factors and platelets to help you achieve younger-looking skin.
During a PRP treatment, our team will draw a small amount of your blood and spin it in a centrifuge to extract the plasma layer. This plasma layer is rich in essential platelets and growth factors that help to stimulate collagen production, improve skin elasticity, and reduce the appearance of fine lines and wrinkles.
We can inject the PRP separately or combine it with microneedling for enhanced results. Microneedling from our office is a procedure where extremely small needles are used to create tiny punctures in the skin. This helps to increase the absorption of the PRP, as well as stimulate the production of new collagen.
Whether you're looking to address acne scars, skin aging, or hair loss, we're here to help. Contact us today to schedule your appointment and see how microneedling and PRP injections from our Bellevue clinic can help you achieve radiant skin!