BELLEVUE CHEMICAL PEEL TREATMENTS
WHAT IS A CHEMICAL PEEL?
A chemical peel is a common procedure that uses chemicals applied to the face in order to remove the top layer of skin, revealing the younger, fresh-looking skin beneath. Most commonly applied to the face, these peels are typically made up of glycolic acid, lactic acid, trichloroacetic acid, salicylic acid, or carbolic acid (phenol). Typically, these chemical peels can be used on any skin type. 
TYPES OF CHEMICAL PEELS AVAILABLE
Chemical peels are classified into 4 different types of peels:  Phenol peels, TCA peels, AHA peels, and BHA peels. MOD Dermatology Bellevue recommends AHA and BHA peels for light chemical peels. TCA for a medium-depth peel, and Phenol for a deep-depth peel. The deeper the chemical peel, the more drastic the results and the longer the recovery time.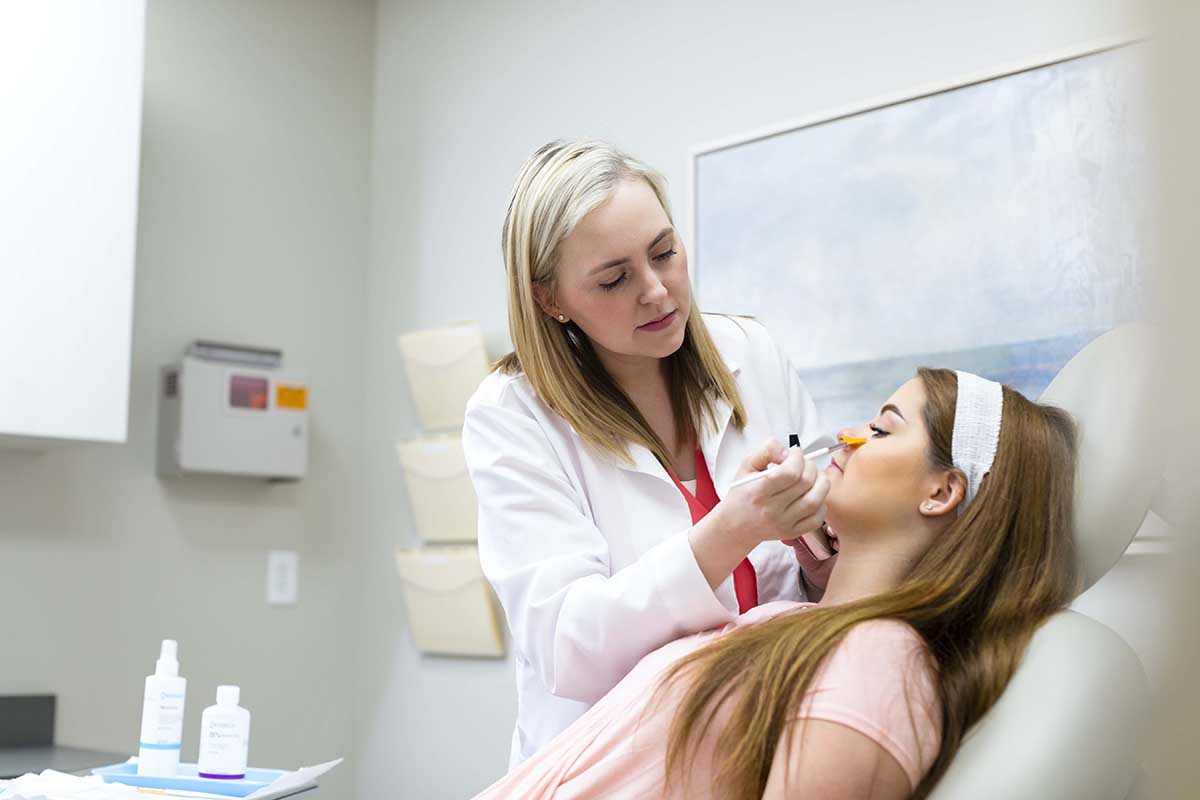 PREPARING FOR YOUR CHEMICAL PEEL
To best prepare for your facial chemical peel in Bellevue at MOD Dermatology, we recommend refraining from exfoliating the week prior because the peel will already be a strong exfoliant. It is always a good idea to be well-hydrated on the day of the peel. Make sure you have been using sunscreen at SPF 30 or higher to protect your skin from sun damage. 
BENEFITS OF CHEMICAL PEELS
Depending on the type of chemical peel you receive, there are many benefits that go along with it. The many benefits of chemical peels include smoother skin, a brighter complexion, and reduced skin discoloration. Facial chemical peels from Bellevue's MOD Dermatology have been helpful treatments for acne treatments and reducing acne scarring.
WHY SHOULD YOU GET A CHEMICAL PEEL?
If you are on the fence about deciding whether to get a chemical peel, here are some solid reasons why you should:
Low-risk treatment
Make your skin look rejuvenated
Smoother looking skin
Decrease acne
Improve the appearance of scars
CHEMICAL PEEL AFTERCARE
Depending on the depth of peel you receive, it could take 1-2 weeks to fully recover after your treatment. Avoid picking at your face, and make sure to use sunscreen of SPF 30 or higher. Gently cleansing your skin regularly will also help the healing process.
CONTACT MOD FOR YOUR CHEMICAL PEEL TREATMENT IN BELLEVUE
MOD Dermatology in Bellevue has many chemical peels available to fit your needs. Contact MOD Dermatology Bellevue to schedule a TCA peel, AHA peel, BHA peel, or Phenol Peel appointment with our dermatologists!